Architecture
/ Interior Design
/ Planning
LEED Registered / Certified Projects
LEED – EBOM Platinum – Heapy Engineering Corporate Headquarters
LEED-NC Gold – Dayton Metro Library Northwest Branch, 2016
LEED-NC Gold – Milton-Union K-12 School, 2014
LEED-NC Silver – Northmont High School, 2016
LEED-NC Silver – Greeneview Middle School, 2013
LEED Silver – Heapy Engineering Corporate Headquaters, 2004

US Department of Education Green Ribbon School
Milton-Union K-12, 2014
Governor's Award for Excellence in Energy Efficiency
Heapy Engineering Corporate Headquarters, 2004
Dayton Chapter of the American Institute of Architects
Merit Award, Little Woods House, 2014
Honor Award, Montgomery County Juvenile Detention Center, 2008
Honor Award, Fairmont High School Performing Arts Center, 2006
Award of Excellence, Heapy Engineering Corporate Headquarters, 2004
Honor Award, Heapy Engineering Corporate Headquarters, 2004
Special Recognition, St. John the Evangelist Church, 2004
Dayton Business Journal Structures Award
Award of Merit, James S. Trent Arena, 2006
Masonry Institute of Dayton "Architectural Excellence in Masonry Award"
Northmont High School, Terrazzo Floors Craftsmanship Award, 2016
Montgomery County Juvenile Detention and Intervention Facility, Dayton, 2007
Fairmont Performing Arts Center, Kettering City Schools, 2005
Harman Elementary School, Oakwood City Schools, 2005
Edwin D. Smith Elementary School, Oakwood City Schools, 2004
Oakwood High School / Junior High, 2004
St. Maximilian Kolbe Church, 2002
University Hall, Wright State University, 1999
Miami University Conference Facility, 1997
St. Charles Borromeo Church, 1993
Fifth District Police Headquarters, 1991
Northmont Community Auditorium, 1988
Apple Valley Office Center, 1984
Wright State University Rike Hall, 1983
Sabre Systems & Service, Inc. Office Building, 1983
West Carrollton Civic Center, 1979
Fairborn Police-Fire Safety Center, 1976
Riverside School and Adult Training Center, 1976
Miami County Safety Building, 1976
Tri-State Masonry Institute "Honor Award for Educational Masonry"A
Wyoming Middle School, 2016

International Masonry Institute "Ohio Area Golden Trowel Award"
Special Recognition, Edwin D. Smith Elementary School, Oakwood City Schools, 2007
Ohio Historic Preservation Award from the Office of the Ohio Historical Society
William Holmes McGuffey House Museum, Oxford, Ohio 2003
Dayton Chapter, American Inst. of Architects and Dayton Daily News December 18, 1999
"Top 15 Dayton Area Buildings of the Century" Meadowdale High School, Dayton, Ohio
Dayton Builders Exchange "Architectural Excellence Award"
Fairmont Performing Arts Center, Kettering City Schools, 2006
James S. Trent Arena, Kettering City Schools, 2005
Edwin D. Smith Elementary School, Oakwood City Schools, 2004
St. Charles Borromeo Church, 1994
Miami County Engineer's Building, 1993
Fifth District Police Headquarters, 1993
Apple Valley Office Center, 1985
Fairborn Police-Fire Safety Center, 1977
Central Printing Company, 1976
Architects Society of A.I.A Ohio Nominee for: 1994 and 1995 Gold Medal Firm Award
Montgomery County Historical Society "Ionic Columns Architectural Heritage Award"
Daybreak, Inc., the best rehabilitation of an historic building in Montgomery County, 1995
Preservation Dayton, Inc.
Biebel and French LPA, 1999
Precast / Prestressed Concrete Institute "Professional Design Award"
A.M. Graphics Corporate Office Building, 1991
Dayton Montgomery County Courts Building, 1990
Library Addition and Computer Center at Wright State University, 1990

Architects Society of Ohio "Honor Award"
Miami County Human Services Building, 1987
Ohio Masonry Council "Excellence in Masonry Design"
Miami County Human Services Building, 1987
Associated Builders and Contractors, Inc. "Award of Excellence"
Kettering City Schools Renovation and Additions, 2006
Oakwood City Schools Renovations and Additions, 2005
National School Board Association Exhibition of School Architecture
James S. Trent Arena, 2006
Ohio Cooperative Education Associates "Distinguished Employer Award" 2007
Awards
The Power of Imagination
The awards process is a major opportunity for public and peer recognition of our work, and a valuable means for promoting architects and architecture within our community. Our many honors reflect excellence and innovation in our architectural design, as well as our deep commitment to creating buildings and spaces that enhance the lives of people.
See Awards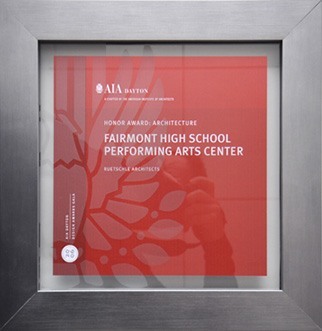 LEED-NC Gold Rated Certification

Northmont High School, 2016

LEED-NC Gold Rated Certification

Milton-Union K-12 School, 2014

LEED-NC Gold Rated Certification

Dayton Metro Library Northwest Branch, 2016
The Team
Creativity at its best
Ruetschle Architects is a Dayton-based architecture firm dedicated to personal attention, design excellence and the creation of projects with lasting quality and value. Enthusiasm and creativity are two of our greatest attributes, helping us achieve innovative solutions to our clients' complex problems. Clients also respect our thorough understanding of the construction process and the confidence that comes from knowing they have a true project partner, working with them to resolve problems and minimize change orders.
Learn More